This is public view. Options are:
Login
,
(Sign Up not available here)
,
Standard View
,
Reset Password
or
Contact the administrator
The Hillingdon Arts Association (HAA) is an ASSOCIATION OF SOCIETIES, CLUBS, GROUPS, etc., which are involved with various ARTS such as MUSIC, DRAMATIC ART, VISUAL ARTS, EDUCATION, ARTS & CRAFTS, and many others. It is a Registered Charity (Charity No. 1107008).
MEMBER SOCIETIES
Are you looking for a group, club or Society, etc., to join? Then look no further. Here is a list of all 50 member societies, clubs and groups, etc. which gives details of what they do, where they do it and when they do it.
Click here
or look under `Membership` and select `List of Societies`.
Officers or members of groups should look at their entry to see if it is what you want the public to see about your organisation. You will find information there about how to update your entry
Entering Event Details
Now that things are beginning to get back to normal, you may be planning your next event.
If so you can
enter events on this Website."
The
Events List
shown here is more than publicity for your event - it is also a most useful 'Clearing House' for events.
If you are planning an event you can look at this list to make sure there is not another similar event already planned for that date.
Get your event listed here as soon as you can to show other societies that the date is already in use.(If you later on find that changes have to be made, then you or your officer who has registered as a 'User' can easily do this.)
WARDROBE NEWS
SOME EXCELLENT NEWS FOR OUR THEATRE AND DANCE GROUPS WISHING TO HIRE COSTUMES.
The Council have reduced the originally stated cost of costume hire to the following:
RATES OF HIRE
Adult Costume £15.00 each, per week
Child Costume £10.00 each, per week
Accessories £5 each, per week
Bulk Rate for Theatre Groups (10+ items) £80.00 week 1 + £40.00 for each subsequent week
Deposit: £30 for 1st 3 items, £10 each additional item
We need your help
You can help just by coming to our meetings (Once things get back to normal). Meetings are held only every 6 weeks.
If you think you might be able to help, please click on the link below.
Click here for more information.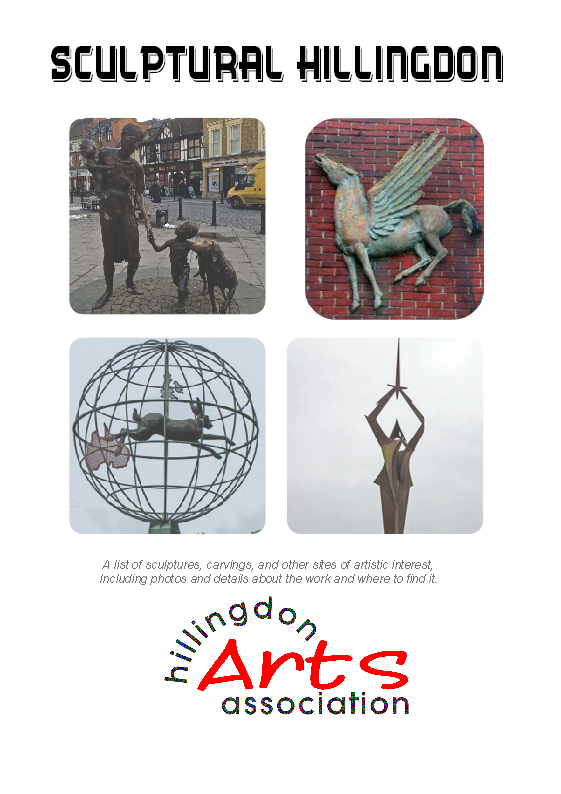 Sculptural Hillingdon is a free booklet published by the HAA.
It is a guide to 14 of the sculptures and other interesting sites you can see in this borough.
Although it is now out of print you can see the pages by either clicking the image above or going to 'News & Views' at the top of this page and selecting
'Sculptural Booklet'
A new version is being prepared, so if you know of any sculptures in this area, please contact us.